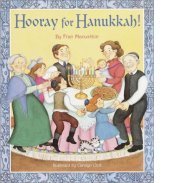 HOORAY FOR HANUKKAH!
Illustrated by Carolyn Croll
Format: Hardcover, 40pp.
ISBN: 0375810439
Publisher: Random House Children's Books






Has anyone ever asked a Menorah how it feels about Hanukkah? The answer, of course, is "TERRIFIC!"' The Menorah is the star of the holiday. What's more, although it's bright, it keeps getting brighter, a condition we all aspire to as time goes by! This funny and appealing story brings all the joy of Hanukkah to its readers.

How I came to write this book

I always like to approach my stories from angles that nobody else has thought of before. That's why I had so much fun writing this story. Indeed, its one of the few books that practically wrote itself. When I came up with the line, "I am bright, but I could be brighter." I was in heaven! It is a statement that resonates so deeply with the Jewish love of scholarship. I also love the artwork for this book too. It's totally happy and immerses us in every detail of the holiday.

Reviews

"From the first joyful lines: Hooray for Hanukkah! It's my favorite holiday. I'll tell you why. I am a menorah! to its last: I am the brightest I can be! My brave light pushes the darkness away. All year long, the family will remember my eight bright days. That's why everyone says, "Hooray! Hooray for Hanukkah!" This is a smiling, singing book. The happy menorah chronicles the family's activities during the holiday, saying each night, "I am bright, but I could be brighter!" and then rejoicing as another new candle is added. This is a bustling, participatory family, too, so all the happy faces carry through the entire story of singing, dancing, blessings, cooking and the rest. Kudos to Croll for her sunny watercolors and lovable folks and to Manushkin for her rollicking story."
Judy Chernak, Children's Literature

"A family's menorah chronicles the day-by-day celebration of the holiday in this sweet-natured story. Croll enhances the tale with an early 1900s setting."
Publishers Weekly

"A sweetly old-fashioned story of a traditional Hanukkah celebration, told from the menorah's point of view. The text is simple yet informative. Visual appeal and a gleeful refrain ('I am bright, but I could be brighter') make this an excellent read-aloud choice."
School Library Journal

Here is a sketch by the artist as well as the finished art.


Click the thumbnails for a closer view of each.