Katie Woo is smart and funny--and good at getting into trouble!
Her stories are the first easy-to-read series about a Chinese-American girl.

CLICK ON THE TITLES BELOW TO BUY THE PAPERBACKS FROM AMAZON!

---
A blog about Katie Woo's clothes by the book's designer, Emily Harris:
Greetings from the design cube! Today I get to share with you my most favorite little character and series of books, Katie Woo. Katie is special for many reasons-she's got the sass, spunk and curiosity that makes her a great, relatable character for children.
Katie Woo is an amazing series to be working on, and my favorite part of the project (it's very difficult to pick just one!) was helping to create her outfit and look. In the beginning I had some ideas-she had to have glasses, and she must look like she picked out her own clothes to wear. From there, I let the illustrator concept how she saw Katie in her head. There were revisions of course, until we came to a version that everyone was happy with. Below is the evolution of Katie Woo:
---

Round 1: While cute, we were looking for something a little more funky and colorful.


---

Round 2: Much closer to what we had envisioned. However, we still felt like she needed something to make her stand out.


---

Round 3: Perfection! We love everything, from the cowboy boots to the turquoise glasses. She's done!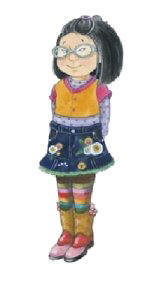 ---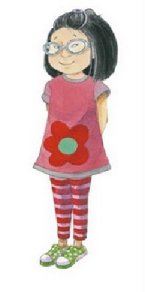 ---
CLICK HERE TO READ ABOUT FRAN AND KATIE WOO IN PUBLISHERS WEEKLY--