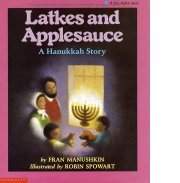 LATKES AND APPLESAUCE: A HANUKKAH STORY
Illustrated by Robin Spowart
An ABA Pick of the Lists
Format: Paperback, 32pp.
ISBN: 0590422650
Publisher: Scholastic, Inc.
Pub. Date: September 1992




On Hanukkah "a blizzard prevents little Ezra and Rebecca Menashe from digging up potatoes and picking apples. Instead of latkes and applesauce, they must celebrate with soup, which they share with a starving kitten and dog that come crying at their door. Such generosity pays off when the dog digs up potatoes in the snow and the kitten leads Papa up into the branches of the apple tree to discover some fruit clinging to the boughs." Bulletin of the Center for Children's Books
How I came to write this book
Years ago, I came upon a wonderful essay by Cynthia Ozick about the importance of the holiday of Hanukkah. Her excitement inspired me to try writing about the holiday too. Until then, I'd never written any story about Jewish life; I was too intimidated. I had very little Jewish education as a girl, and I thought I needed to be a sage with a long, white beard to contribute to our literature. Happily, doing research about the holiday and reading a lot of Yiddish stories calmed me down and gave me more confidence. I was particularly fascinated by the rabbinic injunction that on Hanukkah we must not mourn or fast. This is what gave me the Judaic theme of the story; my love for cats and dogs and latkes helped me do the rest! In writing LATKES AND APPLESAUCE I discovered my Jewish "voice" for the first time. It is highly influenced by Sholem Aleichem, whose stories I treasure. The character of Mr. Menashe was inspired by a tailor named Shmuel, who appears in one of my favorite books, NUMBER OUR DAYS, by Barbara Meyerhoff.
Reviews
"What makes Fran Manushkin's simple tale work so well is its scope. To paraphrase Menashe the tailor from LATKES AND APPLESAUCE, every word of a story should fit as well as a glove. When it happens, it is more than a story. It's a little bit of a miracle."

James Howe, The New York Times Book Review
"Written in evocative Yiddish-inflected language, this is a pleasing addition to the holiday bookshelf. Spowart's soft, blurred pastels give the story an added sense of warmth and security. Included are an afterword on the story of Hanukkah, a latke recipe and instructions on how to play dreidel."
Publishers Weekly
"This gentle story is well served by Spowart's earth-toned chalk illustrations that depict the family in rounded shapes with an economy of detail."
School Library Journal

Here are a few original sketches that Robin Spowart did for this book
as well as what the finished art looks like.
Click the thumbnails for a closer view of each.