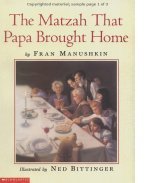 THE MATZAH THAT PAPA BROUGHT HOME
Illustrated by Ned Bittinger
An Ala Notable Childrenšs Book
Format: Paperback, 32pp.
ISBN: 0590471473
Publisher: Scholastic, Inc.
Pub. Date: February 2001




This is the matzah that Papa brought home. This is the feast that Mama made with the matzah that Papa brought home..." In lively cumulative verse, inspired by THE HOUSE THAT JACK BUILT and HAD GADYA, the author takes readers through a rollicking family seder.

How I came to write this book

When I was a child, nobody told me what the seder was about. My father stood at the head of the table, holding a glass of wine and talking in Hebrew, a language that I didn't understand. All I knew about Passover was that I was to take salami-and-matzah sandwiches to school. So I wrote this book to offer young children of today a child's eye-view of their family's seder. It tells them all they need to know about the holiday, in a lively format. The book can be read before Passover, as well as during the seder. In fact, some people have sung it at seders!

Reviews

"A lyrical treasure that deserves a place in every family's library. This book would be a memorable gift for the finder of the afikoman. ...the rhyme and repetition of this enchanting text is enhanced by magnificent illustrations reminiscent of John Singer Sargeant...The warmth, beauty, and dignity of Jewish family life is celebrated throughout. this most magnificent collaboration."
The Forward

"Manushkin constructs a "House That Jack Built" version of the celebration: This is the Passover Seder we shared to eat the feast that Mama made with the matzah that Papa brought home. Her cumulative text deserves applause--the rhymes remain easy and unforced and Bittinger's character studies are gems: from the glowing face of the daughter clutching her Haggadah to the evocation of the plagues of Egypt to the study of many hands grasping at the feast table's bounty, these are illustrations to savor."
Publishers Weekly

"A charming rephrasing of the traditional cumulative song Had Gadya that captures all the excitement, magic, inspiration, high jinks, and eventual exhaustion of a family celebrating a Passover Seder. A unique, lively offering."
School Library Journal

"The sprightly text of this cumulative Passover tale is simple and lively enough for even the youngest child to enjoy. The book conveys the feeling of closeness and community engendered by the celebration, which Bittinger adeptly captures in double-page-spread oil paintings that glow as brightly as the candles on the seder table"
Booklist

Here are a few sketches and finished art by Ned Bittinger
as well as photos of us together.
Click the thumbnails for a closer view of each.